All Day Entertainment's American Slapstick Vol. 2
---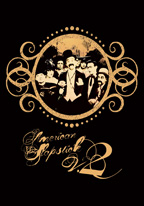 The bad boys and dizzy dames of silent comedy return in All Day Entertainment's
American Slapstick Volume 2
---
Films and Visual Quality * * * 1/2 / * * * *
Generally good visual quality with a number of pristine prints, an improvement over the first volume
Presentation * * 1/2 / * * * *
DVDs contain workable menus, though these could have been made easier to use
Musical score * * * 1/2 / * * * *
A variety of musical accompanists provide appropriate music that perfectly suits these rollicking comedies
Special Features on DVDs
No bonus features, except for brief introductions before each group of comedies
---
THE FILMS:
DISC ONE
HAROLD LLOYD: PORTRAIT OF THE ARTIST AS A YOUNG MAN
LUKE JOINS THE NAVY
BY THE SAD SEA WAVES
BLISS
HEY THERE
DON'T SHOVE
THE HAL ROACH B-LIST
DODGE YOUR DEBTS
LOOKING FOR TROUBLE
WHIRL O' THE WEST
THE DIPPY DENTIST
SHIVER AND SHAKE
POST NO BILLS
EDUCATIONAL PICTURES
A FRESH START
KID SPEED
JONAH JONES
BREEZING ALONG
DISC TWO
CHARLIE WITHOUT CHAPLIN
CHAPLIN CARTOONS BY SULLIVAN/MESSMER
THE HOBO
OH! SHOOT
CHAPLIN WITHOUT CHARLIE
CAUGHT IN A PARK
GUSSLE'S WAYWARD PATH
CHARLEY'S AUNT
DISC THREE
HEARTS AND HAVOC
BE REASONABLE
AT YOUR SERVICE
CALL THE WAGON
THE GIRLIE SHOW
HOLD STILL
CINDERELLA CINDERS
HASH HOUSE FRAUD
FARO NELL
THE TALKIE ERA
PLAYBOY NUMBER ONE
HOLLYWOOD RUNAROUND
---
All Day Entertainment's American Slapstick series is, in a way, like a retort to those who think that there is nothing to silent comedy beyond a few acknowledged classics by Chaplin, Keaton, and Lloyd. "Oh yeah?" these sets boast with the necessary bravado, "Here are hours and hours of rare, off-the-beaten-path silent comedy for you to try on for size." 7+ hours' worth, in the case of Volume Two. Rest assured it is time well spent, serving as a full-bodied education in silent slapstick.
All Day's first American Slapstick set was a grab bag of silent comedy treasures and rarities -- Volume 2 is a sequel that caters to fans of the first installment and yet offers considerably more than just a rehash of its predecessor. Much like the first volume, the second American Slapstick set is presented as a loosely organized cross-section of the many facets of silent comedy. It is also significantly longer and more thorough than the first set -- more than two hours longer, in fact. Volume Two's added length allows for some interesting silent comedy detours that otherwise would not have been possible.
The three-disc set is roughly organized thematically to give some coherence to the assorted comedians and films covered. Disc one starts out with a number of rare, early Harold Lloyd films (and one starring Gaylord Lloyd, to boot) and then moves on to feature lesser-known Hal Roach comedians like Snub Pollard and Paul Parrott (a.k.a James Parrott, Charley Chase's brother -- silent comedy brothers almost comprise another thematic element in this set, and James is not the last.) James "Paul" Parrott is featured in a surviving fragment from Shiver and Shake, a haunted house comedy, and in one of his seminal shorts, Post No Bills. The first disc ends on a number of Educational comedies starring Larry Semon, Lige Conley & Jimmy Adams (in the first Educational Mermaid comedy, A Fresh Start) and the great Lloyd Hamilton, who ends disc one on a high note with his classic Breezing Along, presented in a gorgeous print.
Disc two is itself entirely devoted to Charlie Chaplin -- with no Charlie Chaplin films on tap. Instead, it offers more scarce material featuring Charlie Chaplin imitators, a virtual cottage industry during the silent era. The finest of all Chaplin imitators, Billy West, stars in the fun and pristine-looking The Hobo, co-starring Oliver Hardy (who often acted opposite West as an ersatz Eric Campbell). Bobby Dunn, who does his own variation on the Chaplinesque tramp, is featured in a fragment of the rare Oh! Shoot. A number of Sullivan/Messmer cartoons that used the Chaplin likeness and fashioned their own little tramp comedies have also been included, and are a priceless addition, showing how Chaplin's influence spread to all areas of popular culture at the time. The rest of disc two is devoted to Chaplin's half-brother Syd. Not only does Syd Chaplin star in the only feature film on the set (Charley's Aunt), but the two Syd shorts also included are among the best comedies across the three discs. Syd portrays his infamous womanizing scoundrel character "Gussle" in the shorts Caught in the Park and Gussle's Wayward Path, both from the 'teens, and both show off Syd at his best.
The third and final disc begins with its funniest short, Billy Bevan's Be Reasonable, among the finest pure gag comedies of the era. A particularly interesting comedy included on the third disc is Call the Wagon, a Christie comedy starring Neal Burns, in which the feigned insanity plot Charley Chase later perfected in his Crazy Like a Fox is utilized, with some fascinating parallels. A number of shorts on the final disc provide an examination of the work of a few female comediennes of the era: Alice Howell, Anne Cornwall, and beloved Sennett star Louise Fazenda, who is featured in two shorts, the Keystone comedy A Hash House Fraud and the fun pre-Code early talkie Faro Nell, a spoof of Western melodramas. Two talkie comedies from the '30s -- Playboy Number One with Willie Howard and Hollywood Runaround starring Monte Collins -- wrap up the set, and although amusing enough, these sound-era shorts almost serve as an added afterthought to the chaotic, at times sublime slapstick that preceded them.
On the whole, the second volume of "American Slapstick" is superior in a number of ways than the first installment. More than two hours longer, "American Slapstick Vol. 2" not only has quantity on its side, but quality. Seminal films by underrated comedians are included (Billy Bevan's Be Reasonable, Lloyd Hamilton's Breezing Along, Syd Chaplin's Gussle's Wayward Path) as well as rare shorts featuring the ever-popular Harold Lloyd. The thematic groupings in the set break down the vast amount of material in easily digestible segments, and no section is more heartening than the look at the female comediennes of the era in the third disc, which begs the question, "why don't the ladies get a multi-disc set of their own?" In fact, the inclusion of the best work of a number of lesser-known clowns in this set (Hamilton, Bevan) make a case for their own dedicated set (yeah, yeah...silent comedy wishful thinking.)
The print quality of the films on "American Slapstick Vol. 2" is also an improvement over the first set. As expected, there is some variation on the print quality of the films, with a few shorts presented in less-than-pristine prints (Kid Speed, the very rare Oh! Shoot) balanced by some beautiful-looking comedies (Looking For Trouble, Breezing Along, The Hobo, just to name a few). Considering the rarity of most of these films (some of the shorts on the set do not survive complete and are presented only in fragments), and that some of the ultra-rare shorts do not survive in better looking material, the overall print quality of the set is very good and is always more than just "watchable".
With the exception of a few shorts, all films on "American Slapstick Vol. 2" are accompanied by all-new musical scores from such veterans as Ben Model, Andrew Earle Simpson, Blaine Gale, Ethan Uslan, David Drazin, and Jay Warren. These are appropriate, traditional scores, perfectly suited for these silent comedies, and the variety of accompanists is definitely a plus for such a packed collection of films.
If there is a small downside to this release it is the way the menus on the three discs are set up. There is so much material on the set that it can be hard to navigate the menus, with each disc menu containing a few pages that one may need to scroll through when selecting a short to view -- a negligible downside considering the multitude of vintage short comedies on the set, an embarrassment of riches for silent comedy buffs. The back of the booklet provided with the set lists the films featured throughout, as well as their release dates, running times, and the sources of the prints, but curiously neglects to mention the lead comics of the shorts, which can be puzzling to new converts to the films of these lesser-known figures of silent comedy.
The booklet includes a fascinating and invaluable article by film historian Steve Massa that outlines the careers of many of the comic players in the assorted comedies, and is a must-read for aficionados. There are unfortunately no bonus features to speak of -- audio commentaries on at least a few films would have been nice -- but there are short spoken introductions to each segment of comedies on the set. These introductions provide a useful, and at times necessary, background on the films and comic performers.
Overall, "American Slapstick Vol. 2" is a thorough look at a great number of high-quality comedians and comediennes from the silent era who, though many may not be household names, are worthy of appreciation and rediscovery. As we drift further and further away from the silent era with each passing year, our collective memory of the period is in danger of becoming restricted to only a few notable figures. Over the past few years, a number of noteworthy, pioneering DVD sets have restored and made available the important, still entertaining work of many overlooked comedians from the era. These DVD sets, of which "American Slapstick Vol. 2" is a prime example, not only make these rare films available for home viewing, but preserve our film heritage, actively pushing against the restrictive boundaries of our short-sighted cultural consciousness and reminding us of the significance of these half-forgotten artifacts and the risk of losing them.
---
To order the DVD directly from All Day Entertainment, click here.
---
American Slapstick. 440 minutes, 3 disc set, B&W.
Original music accompaniment by Ben Model, David Drazin, Blaine Gale,
Andrew Earle Simpson, Ethan Uslan, and Jay Warren.
All titles (c) Copyright 2008 All Day Entertainment.
Produced with the cooperation of
Looser Than Loose publishing and Silent Cinema Presentations Inc / The Silent Clowns Film Series.
---

Back to the main page of "The World of Charley Chase"