Biography of Charley Chase
---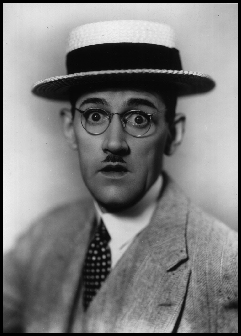 Charley Chase in character, circa 1932.
---
The split-reel, bare-bones bio:
Charley Chase (1893-1940): Prolific silent film and early sound-era comedian, screenwriter, and director who during his career was associated with over 300 films; worked with many of the top comics of the day, including Charlie Chaplin, Roscoe Arbuckle, Laurel & Hardy, and the Three Stooges; had a long-running series of short comedies at the Hal Roach Studios (1924-36) and at Columbia Pictures (1937-40); notable starring comedies: Mighty Like a Moose (1926), Limousine Love (1928), The Pip From Pittsburgh (1931), The Heckler (1940).
---
Charley Chase was born Charles Joseph Parrott in Baltimore, Maryland on October 20, 1893. His parents, Charles and Blanche Thompson Parrott, also had another child, James Gibbons Parrott, who was born in 1898 and would eventually become a film actor and director. In 1903, young Parrott's father, a heavy drinker, died of a heart attack while still in his forties. To support the family, Charley worked odd jobs and entertained on street corners. He soon began performing in local theaters, becoming a neighborhood celebrity in the process. Around 1910, he struck out on the major vaudeville circuit, leaving Maryland and touring the States with other, more seasoned performers.
Charley Parrott arrived in Hollywood in 1912. Initially finding work at the Al Christie filmmaking unit at Universal, he quickly gravitated to Mack Sennett's Keystone Studios, fast becoming a haven for talented young comedians. Parrott's work as an actor for Sennett consisted mostly of bit roles supporting such up-and-comers as Charlie Chaplin and Roscoe "Fatty" Arbuckle. Charley starred in a number of Keystone shorts, but the ordinariness of his appearance hindered his success at a studio that prized heavily made-up, grotesque comic actors.
Charley Parrott's most important work at Keystone was done off-screen. Parrott became interested in the technical side of film and began directing Keystone stars such as Ford Sterling, Chester Conklin, Slim Summerville, and Mack Swain. After becoming a top director at Keystone, Parrott joined the Fox Film Corporation in 1917 as director of two-reel comedies. The following year, Parrott left the studio and directed comedies at Paramount, Bulls-Eye, and Educational. During this period, Parrott directed such stars as Lloyd Hamilton, Chaplin imitator Billy West, and a young Oliver Hardy.
In 1920, Parrott was hired as director at the Hal Roach Studios, directing comic Snub Pollard. In late 1921, Parrott was made director general of the studio, supervising nearly the entire Roach product of the time. Once top Roach comedian Harold Lloyd left the studio in 1923, producer Hal Roach looked for someone with star potential to replace him. He thought Parrott fit the bill, and persuaded him to step in front of the cameras.
Parrott changed his name to Charley Chase upon starting his new comedy series. The initial one-reel Charley Chase comedies (in which Chase usually played a character named Jimmy Jump) were so popular that their length was doubled by the following year. In his silent two-reelers, Chase frequently utilized situation comedy and farce, playing a good-natured young man continually getting into embarrassing situations. Compared to the other top comedians of the day, Chase emphasized sophisticated comic situations and character rather than gags. Collaborating with director Leo McCarey and (upon McCarey's move to the Laurel & Hardy series) his brother James Parrott, Chase turned out gem after gem during the silent era, a number of which are certified comedy classics. His Wooden Wedding, Innocent Husbands, Mighty Like a Moose, Crazy Like a Fox, Fluttering Hearts and Limousine Love all represent Chase at his best.
Charley made his debut in sound film on a loan-out to Universal in a supporting role in the feature-length Modern Love. Back at the Hal Roach Studio, Chase eagerly began filming his "talkie" shorts. Sound provided greater scope for Chase's characterizations and also allowed him to showcase his considerable singing talents. As Chase neared forty years of age, he altered his screen character to what he termed his "Nance" persona -- an amiable, slightly meek, bashful fellow, which he portrayed in such films as Now We'll Tell One, Mr. Bride, and Fallen Arches. Although he was instrumental behind the scenes throughout his career, it was only in the mid 1930s that Chase began to get credit as director of his own work (as Charles Parrott).
Although Chase's field was the short subject, he made two important features in the 1930s. One was a hilarious guest appearance in Laurel and Hardy's Sons of the Desert (1933), in which he portrayed an obnoxious conventioneer fond of practical jokes. The other was in Kelly the Second (1936), where he played the more down-to-earth J. Willoughby Klum. Despite resistance from MGM, Chase attempted to produce his own starring feature film at Roach. Chase's hour-long feature ran into a number of production problems, and despite a positive response during previews, the film was cut down to two reels and released as the short Neighborhood House in 1936; footage from the unreleased feature-length version does not appear to survive. As Hal Roach was phasing out short subject production by the mid '30s, Chase's failure to graduate to features prompted the producer to fire Chase in 1936 after sixteen years of service as a writer, director, studio supervisor, and star comedian.
Charley Chase did not abandon the short subject field. He went on to star in his own series of two-reelers at Columbia Pictures and directed other stars such as The Three Stooges. Some of his best shorts at Columbia, such as The Wrong Miss Wright and The Heckler, are as good as any of his Roach comedies.
Throughout his career, Chase suffered from a drinking problem. On numerous occasions, his doctors advised him to stop, but the lure of the bottle was too strong. Chase's drinking further intensified after the early death of his brother James in 1939 (due to alcohol and apparently a drug problem) and the comedian eventually succumbed to a fatal heart attack on June 20, 1940 at the age of 46.
Charley Chase died in 1940 but like many film greats who are now gone, his work lives on. The largely neglected comic legacy he leaves behind is comprised of hundreds of films, comedies that are constantly brimming with wit and invention -- films that burn bright with the kind of effervescent spirit that never fades and never grows old.
---
For more information on Charley Chase check out Brian Anthony and Andy Edmonds' excellent biography, Smile When the Raindrops Fall: The Story of Charley Chase.
---

Back to the main page of "The World of Charley Chase"