The Charley Chase Collection Volume 2 (Slapstick Symposium Too)
---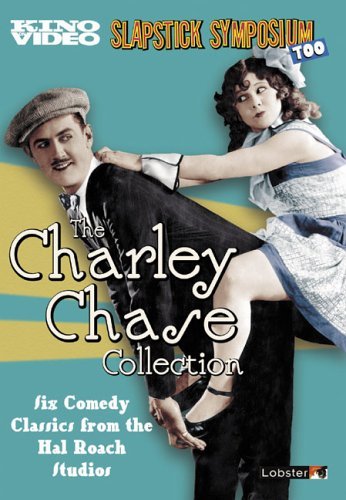 ---
Films and Visual Quality * * * 1/2 / * * * *
A nice, although slim, selection of films
Presentation * * * 1/2 / * * * *
Easy to navigate menus with scene selection as well as a "play all" function
Musical score * * * * / * * * *
Fun, upbeat piano scores provide wonderful accompaniment to the comedies
Special Features * * 1/2 / * * * *
A bonus short starring James Parrott as well as an all-too-brief introduction to Chase's life and career
---
THE FILMS:
His Wooden Wedding (1925) A jealous rival tries to ruin Charley's wedding by telling him that his soon-to-be wife has a wooden leg. Charley hastily calls off the wedding, gets drunk - and hilarity ensues.
Isn't Life Terrible (1925) After selling a thousand fountain pens, Charley Chase wins a "pleasure cruise" that proves to be less than pleasurable. With Oliver Hardy in his first supporting role in a Chase comedy.
Innocent Husbands (1925) Although Charley is indeed an innocent husband, he keeps finding himself in situations where his fidelity is put into question - especially when a party girl passes out in his apartment. The prototypical Charley Chase farce, and one of the best.
Dog Shy (1926) Charley poses as a butler in order to help a girl avoid her arranged marriage to a snooty nobleman. An intricately plotted comedy rich with laughs. Includes the classic scene in which Charley has to bathe "The Duke".
Bromo and Juliet (1926) To impress his girlfriend, Charley takes on the role of Romeo in a production of the immortal Bard's play. On the way to the stage, Charley gets thoroughly soused and pads his tights to the max. With Oliver Hardy.
---
Just over a year after the release of their "Charley Chase Collection", Kino International is offering a second disc of prime Chase comedies restored by Lobster Films. Part of a second set of "Slapstick Symposium" DVDs called "Slapstick Symposium Too" (which includes a second pair of Harold Lloyd discs as well as a compilation of some of Oliver Hardy's solo films, each sold seperately), "The Charley Chase Collection Volume 2" contains nearly all the Chase shorts recently restored and released by Lobster Films in Europe that were not featured on Kino's first Chase DVD.
The films on this second disc - His Wooden Wedding, Isn't Life Terrible?, Innocent Husbands, Dog Shy, and Bromo and Juliet - cover the same period as the ones on the first DVD, the mid-'20s at the Hal Roach Studios, when Chase and director Leo McCarey could seemingly do no wrong. Although the full length of this DVD is barely two hours (if you count the bonus Paul Parrott short), the quality of these comedies and the excellent restoration work speaks for itself. This release, like the first "Charley Chase Collection" that preceded it, is a good example of quantity sacrificed for quality. Three out of the five Chase shorts on the disc (His Wooden Wedding, Innocent Husbands, and Dog Shy) are Chase masterpieces, brilliant comedies superbly constructed, and are among the films on which Chase's latter-day reputation rests. It is disappointing, however, that Kino had neglected to include the wonderful What Price Goofy? in this collection, as it too was featured in Lobster's Region 2 release. This is rather curious, as the Chase disc is already the shortest of all their "Slapstick Symposium" DVDs. The exclusion of What Price Goofy, however, is the only big disappointment of the release, which excels in every other respect.
Similar in execution to the first "Charley Chase Collection" (and with some of the same graphics), the DVD menus of this disc are layed out simply and are easy to navigate, providing scene selection to all Chase films as well as a "play all" function that allows you to play the DVD all the way through if you decide to have yourself a little Charley Chase marathon. The musical accompaniment to these films, like that on the first DVD, is by composer and pianist Neil Brand, whose fresh, lively melodies provide fine support to the comedies.
As to the visual quality of the films, the prints are not spotless - especially Innocent Husbands, which shows a little wear - but many shorts in the collection do look remarkably clear for films of their age. This is especially true of the prints used for His Wooden Wedding and Dog Shy. Three of the shorts here, Isn't Life Terrible, Bromo and Juliet, and Dog Shy, are presented in nice sepia-toned prints, although the films themselves were not originally released as such. The film speed is comparable to that of Kino's first Chase DVD, that is, the comedies are slowed down slightly more than perhaps would be preferable to die-hards. This is most evident on Isn't Life Terrible, which, although still missing some footage, does benefit from a more complete print than usual. Luckily, there is no sign of PAL/NTSC conversion on these shorts, with none of that annoying ghosting to be found on the entire disc.
Two extras are included in the DVD, including a bonus short, the Paul Parrott comedy Shine 'Em Up (1922), a typically gag-infested Hal Roach two-reeler starring Charley's brother James Parrott. The other extra on the disc is a five-minute-long feature on Chase's life and career narrated by Serge Bromberg of Lobster Films. The narration is presented over a host of clips from the films in this collection as well as some others. It would have been interesting to have seen a longer, more thorough study of Chase as a bonus, but this brief synopsis of his life and career suffices as an introduction for the uninitiated.
Overall, the "Charley Chase Collection Volume 2" is a wonderful follow-up to Kino's first Chase offering. Although unfortunately slight in the number of shorts it features, the disc contains some of Charley Chase's finest comedies, which are lovingly restored and handsomely packaged. One can only hope that more of Chase's films from the era will be treated to a similar restoration project and that soon enough a complete "Charley Chase Collection" of all his extant silent comedies can finally be made available for home viewing.
---
To order the DVD directly from Kino, click here.
---

---
The Charley Chase Collection Volume 2 (Slapstick Symposium Too). Special Edition produced by Eric Lange and Serge Bromberg. Music by Neil Brand. Licensed from Lobster Films. Distributed by Kino International.
---

Back to the main page of "The World of Charley Chase"