"An Introduction to Charley Chase"
By Dean Shewring
---
The following article was originally published in Laughing Gas #43, July-September, 2004, the newsletter of the Leave 'Em Laughing Tent (Oasis #132) of the Sons of the Desert, located in Peterborough, Ontario, Canada.
---
"One of the most underrated talents in the history of film comedy..." ["The Laurel & Hardy Encyclopedia," by Glenn Mitchell, p. 63].
"...the wonderful and currently much undervalued and neglected Charley Chase!" ["The Comedy World of Stan Laurel," by John McCabe, p. 66]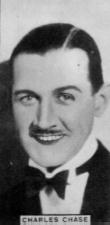 The history of the Hal Roach Studios would not be complete without an examination of one of the "Lot of Fun's" most enduring comedians, Charley Chase.
Born Charles Joseph Parrott in Baltimore, Maryland on October 20, 1893 to Charles and Blanche Parrott. His brother, Jimmy, was born five years later. Charley was an outgoing child who made friends with everyone in his ethnically diverse neighbourhood. His father died of a heart attack in his early forties, so Charley had to leave school at age ten to earn money doing odd jobs - including as a street corner entertainer.
After several years in vaudeville, which brought him to Los Angeles in 1912, Charley decided to give the burgeoning film-making industry a try.
A year with the Christie Studios soon led to work at Mack Sennett's Keystone Studios, where Charley graduated from being an extra in Mabel Normand and Charlie Chaplin shorts to directing many of the early stars of screen comedy.
Charley freelanced as a director at several studios after leaving Sennett in 1916 including Fox, King Bee, L-KO, Bulls-Eye, Paramount/Famous Players and Educational.
Charles Parrott was an integral part of the success of the Hal Roach Studios in its early years. Hired as a director in 1920, Charley was directing comedians Snub Pollard (Harry Frazer) and Paul Parrott (Charley's brother Jimmy) between 1921 and 1923. Graduating to Director-General of the studio in December, 1921, Charley was responsible for every production unit on the lot and was instrumental in bringing both Stan Laurel and Oliver Hardy to work at the studio.
A long-time employee at the Hal Roach Studios, Roy Seawright, described what Charley was like as a director on the set: "Charley was very restless. Like anybody creative, he couldn't sit still. He's gotta keep moving, something's gotta be jumping..." ["Smile When the Raindrops Fall: The Story of Charley Chase," p. 87]
After Harold Lloyd left Roach in 1923 to produce his own features, Charley was put before the cameras to star in his own series of comedy shorts, beginning in 1924. By 1925/26, the newly dubbed "Charley Chase" (under the direction of Leo McCarey) was one of Roach's most successful comedians and money-makers.
His most highly-regarded silent shorts from this period included What Price Goofy?, Isn't Life Terrible?, His Wooden Wedding, Long Fliv the King, Mighty Like a Moose and Crazy Like a Fox.
Charley's style was to start with a simple, embarrassing predicament that anyone might get into, then build it up into an inventive, if wildly implausible, climax. "...his trim face and manner had no fairy-tale excess in them, no line to invite a caricaturist's ballooning, no mystery to be wrestled with. He would always be at his best as a faintly fussed Mr. Normal..." ["The Silent Clowns," by Walter Kerr, p. 321]
After a slow start in the early days of sound, Charley found his stride by late 1929, in partnership with Thelma Todd, with whom he made several memorable shorts including Whispering Whoopee, Dollar Dizzy, Looser Than Loose, The Pip from Pittsburgh - along with mini-musicals High C's and Rough Seas.
The sound shorts enabled Charley to show some verbal dexterity as well as giving him an opportunity to demonstrate his fine tenor singing voice. He often included a song or two in his comedies. The opening theme for most of his sound sorts was "Gangway Charley," but he also experimented with another tune which he would sing in the opening credits - "Smile When the Raindrops Fall":
Smile when the raindrops fall, dear
Smile til the clouds roll by.
Just remember that I love you
Though dark is the blue, blue sky.
Dark clouds will fade away, dear
Soon pass beyond recall.
So just smile at the skies
With those big smiling eyes
Just smile when the raindrops fall.
Smile When the Raindrops Fall - W.A. Quincke and Co. (1930)
Charley shared many of the same supporting cast as Stan and Babe. Anita Garvin, Edgar Kennedy and Billy Gilbert each became regular players in Charley's films at one time or another during his run. You can spot other L&H alumni such as Dorothy Coburn, Kay Deslys, Charlie Hall, Jean Harlow, Gale Henry, Arthur Housman, Rosina Lawrence, Linda Loredo, Vivien Oakland, Our Gang kids, Viola Richard, Charley Rogers, 'Tiny' Sandford, Lupe Velez, Jacqueline Wells, Noah Young and more...Famous actors such as Fay Wray, William Frawley, Hattie McDaniel and Paulette Goddard can be seen in Charley Chase comedies at the start of their careers.
Fellow actors had nothing but good to say about Charley Chase. Young Tommy "Butch" Bond, who started with The Little Rascals, played his first "tough-guy" role in a Charley Chase short - I'll Take Vanilla. "Charley was terrific, but so high strung that he reminded me of a thoroughbred horse. He was hyper, and worked best under pressure. And - he was great! He was very professional, loads of fun, and kind to all the cast and crew. I will always remember Charley Chase for building my self-esteem. He was the first director to guide me, to give me confidence and make me feel like somebody." ["Darn Right It's Butch," by Tommy Bond, p. 40-41]
Charley's best sound shorts from the mid-1930's included Young Ironsides, Now We'll Tell One, Mr. Bride, Nurse to You and a memorable appearance as "Texas 97" ("What a darb!") in the 1933 Laurel and Hardy feature, Sons of the Desert.
Charley Chase, unable to make a successful transition to feature films, was fired by Hal Roach in 1936. The next year, Charley was working in his own series of shorts at Columbia Studios, as well as directing other series on that lot, including The Three Stooges. Several of the very funny films he made at Columbia included The Wrong Miss Wright, The Big Squirt, Many Sappy Returns and The Heckler.
Charley passed away at his home from a heart attack on June 20, 1940, at the too young age of 46, leaving his wife BeBe and two daughters Polly and June.
While Charley Chase proved to be one of the most versatile performers of his age - writing songs and gags, directing and acting - the general public never completely identified with his screen characters. Even so, Charley was selected to be among the top 100 (as a pioneer of early film-making) among the first 1,500 named to the Hollywood Walk of Fame in 1958.
---

Back to the main page of "The World of Charley Chase"