June Chase Hargis: What A Darb!
---
Almost fifty eight years have elapsed since Charley Chase, one of early cinemaís most versatile individuals, passed away. His celebrity, once known throughout the world, is virtually non extant. If not for the doyens of film fans that have tried to keep the name and legend alive, Charley may have altogether disappeared from our view. Information on Chase has been scant for decades. Not much was known about his personal life until a recent discovery came into light; the whereabouts of Charleyís only living daughter, June.

June Chase has been living in California all her life. She married Donald Hargis and had an enduring relationship with him until his death a few years ago. At her husbandís request, she declined interviews and invitations to public events regarding her father and his work. Only since her husbandís passing did she consent to attend a function that would be honoring her once famous father.

The function occurred on December 9, 1997 in Los Angeles and was hosted by the Sons Of The Desert, an organization dedicated to the preservation and appreciation of the films of Stan Laurel and Oliver Hardy. In recent years, the group has extended its boundaries by reuniting many of the performers, technicians and their families, who worked at the Hal Roach Studios. This includes, not only Laurel and Hardy films, but the Our Gang Comedies, Taxi Boys, All- Star Series, and Charley Chase films, among others. The evening was attended by members of the Los Angeles chapter of the Sons, Buster Keatonís widow, Eleanor Keaton and, for the first time, June Hargis Chase. The evening was subtitled, "A Tribute to Four Clowns", the four being Laurel, Hardy, Keaton and Chase. But the big draws that evening were the guests of honor.

Upon seeing her, one cannot help but be amazed at her resemblance to her father. From her slender frame to that familiar wide smile, she is unmistakable as Charley Chaseís offspring. And when she spoke as if her father was talking, you would almost swear that Charley was alive and in front of you recalling the glory days of Hollywood.

She graciously spent much of her time with me, answering questions and recalling ancient memories that have long been unspoken about. Later on, she took part in a Q and A session, along with Eleanor Keaton. When the crowd continued asking questions to Eleanor about things that have long ago been answered, ( "Did Buster ever make any sound films"?), I turned to look at my friend, Bob Satterfield, a man who has found so many cast and family members from Hollywoodís golden age, that it would take a book to write them all down. Bob knew that I was upset that nobody had asked June a question. Here was the daughter of the most underrated man in early film comedy, who has never talked publicly about her dad, whom Bob himself traveled five hours just to bring her to this event and the crowd is asking already documented questions to Eleanor that can be answered in a "Keaton 101" class. With my hand raised high in the air and Bobís arms pointing to my hand, I finally was recognized by the emcee. Soon, the questions diverted away from Buster to Charley.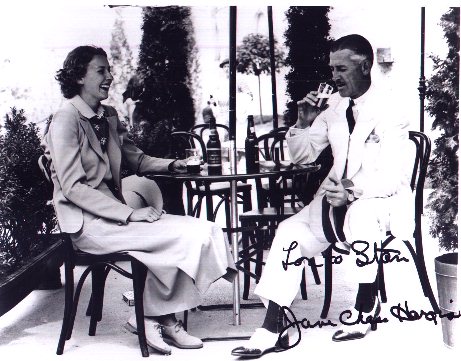 Her memories of her father are loving and warm. She spoke of the genuine bond the two shared. "I was his playmate", she said. They would do everything together. When June and her sister, Polly, who passed away in the 1950ís, would have friends over to the house, Charley would enter the room and begin to play a musical instrument. Soon, the invited friends would grab one of the many other pieces of the orchestra and have an impromptu jam session. He was a father who all the children in the neighborhood loved.
He shielded his family away from the Hollywood lifestyle. On rare occasions, she would be allowed to visit her father on the set of one of his films. Surprisingly, she rarely got to see her fatherís movie shorts. "Iíve seen two or three", she told me before the screening of, "The Pip From Pittsburgh". It was shocking to hear that, after all these years, she hadnít tried to seek out her dadís films.
Their home was situated on Highland Avenue in the Hollywood section. Today, the site of the Chase house is where the Hollywood Bowl stands. She spoke of the parties that were held there while she was growing up. She remembered Stan Laurel coming up to her room to say hello. Her father often stayed at the studio to work on the film he was preparing at the time. But when he was around, "...he was always so much fun."
It was around the time of her wedding that she found out that her last name was not legally "Chase". Charley legally changed his name from Parrott to Chase many years earlier but didnít change the family's name. So June Chase was really June Parrott and her sister Polly Chase was actually Polly Parrott!
She spoke about her last clear memory of her father. It was after her wedding to Hargis. Charley came into the room and sat down next to her. In typical Charley Chase fashion, June impersonated her fatherís whinny voice and said (as him), "Why did you have to go and get married?" He was upset that his best "play pal" was not going to be around the house for him anymore. Soon after that, she recalled, he died.
The evening continued with the screening of, "The Pip From Pittsburgh", and, although the film was playing on the screen, several pairs of eyes were catching glances of June watching her father doing what he did better than most. Suddenly, the film took on more meaning than it ever did before, for in the crowd, looking at the flickering image, was a special individual seeing what we were seeing. But to her, it wasnít just a comic performer cavorting on the canvas, it was her daddy; young and handsome as she remembered him, alive and entertaining as he did so often during her early years. It was a special moment to be in the presence of. She willingly signed autographs and posed for some photos with some of the guests. She was very pleased and surprised to see a print out of the Internet site, The World Of Charley Chase. She seemed puzzled by all the enthusiasm that we all share about her dad. "To me, he was just my father," she told me. "I never thought of him as an actor." Whether she knows it or not, her father was one of the greatest practitioners of screen comedy and that is cinematic fact. His artistic contributions were tonic to a depression era world. We are grateful to Juneís dad for the comic gifts he has left us. I know that she felt that throughout the eveningís celebration. And we are grateful for the gift of June Chase, a darb if there ever was one.
Update, April 2004: June Chase Hargis, Charley's daughter, whom he used to call his "pal", passed away on Christmas Eve, 2003. She recently moved to an assisted living complex and was not seeing anybody except her immediate family. She was eighty-six years old. It was an honor to be with her and to show her some of her father's films. Her face lit up when she saw him on the screen. A treasure never to be forgotten.
---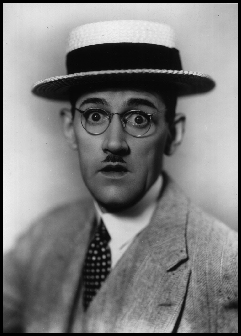 Back to the main page of "The World of Charley Chase"