Links
Other Early Film Comedy Websites
---
If you have a website and would like to add a link to The World of Charley Chase, feel free to use the banner below.
---
Charley Chase
Charley Chase Fan page on Facebook Charley Chase enters the 21st Century.
The Charley Chase Fan Group on Yahoo! Groups This message board dedicated to Charley Chase serves as a forum to connect with other fans and hold discussions on all things Chase.
Charley Chase at Laurel and Hardy Central Great article on Chase at John Brennan & John Larrabee's excellent tribute to two other Hal Roach comedians of note. Includes a great picture of Charley's imitation of the skinny one, from On the Wrong Trek.
Review of Smile When the Raindrops Fall at Images This film journal has an interesting piece about the Charley Chase biography which doubles as a fond appreciation of the comedian's work.
Charley Chase and James Parrott at "The Lucky Corner" A filmography and chronology for each Parrott brother is available on Robert Demoss's Our Gang site.
Charley Chase Photo Gallery at "Silent Gents" Charley gets his own photo page on "Silent Gents", a huge site full of galleries featuring silent film stars, created by Arbucklemaniac David B. Pearson.
Charley Chase Quicktime Clips Short clips from Crazy Like a Fox, His Wooden Wedding, and other short comedies. From David B. Pearson's "Slapstick" site, which features plenty of other clips to keep you busy--Chaplin, Keaton, Lloyd, Langdon, Laurel & Hardy, et al. (though, alas, no Jimmy Aubrey.)
Silent Era: Charley Chase Short biography of Chase on the comprehensive Silent Era website.
Charley Chase on YahooMovies YahooMovies has a decent biography of Chase (taken from All Movie Guide) as well as a very limited filmography.
Charley Chase on DVD
Milestone Films Released Cut to the Chase, a set of prime Charley Chase silent comedies.
All Day Entertainment Released the essential DVD collection Becoming Charley Chase, which chronicles the comedian's early years (1915-25).
Kino International Released the Charley Chase Collection DVDs, as well as the Slapstick Encyclopedia set.
ReelClassic DVD Mail order company specializing in classic films that released a couple of DVDs which included Charley Chase silent comedies.
The Studios - Roach, Sennett, and Columbia
Hal Roach: A Man and His Studio An interesting article on Roach by John Brennan on the silentsaregolden.com website.
Leo McCarey at Hal Roach Studios An article by Richard W. Bann on director Leo McCarey's tenure at the Hal Roach Studios, with particular emphasis on his association with Charley Chase and Laurel & Hardy.
Laurel & Hardy Central -- Hard Boiled Eggs and Nuts An excellent website created by John Brennan and John Larrabee, this site includes essays, pictures, and fun facts about the Boys as well as witty commentary on their films.
The Laurel & Hardy Forum An interactive, worldwide forum dedicated to the famous comedy duo. Postings cover nearly everything under the sun, from the pair's films to their Hal Roach Studio colleagues, and much more.
Laurel & Hardy Magazine The official website of the "Helpmates" Tent of the Sons of the Desert (the Laurel & Hardy Appreciation Society), which publishes one of the finest journals devoted to Chase's talented colleagues.
Brent Walker's Mack Sennett Blog A companion blog to Walker's definitive study of the studio, Mack Sennett's Fun Factory.
The Shorts Department An exhaustive site dedicated to the two-reel comedies released by Columbia Pictures. Contains a wealth of information on the many comedians who had worked at Columbia, including Chase, Andy Clyde, Harry Langdon, and others.
Other Related Links
Slapsticon Website of the yearly festival of early film comedy held in Bloomington, Indiana. Over the past decade, the Slapsticon festival has become a mecca for film historians and collectors.
The Silent Clowns Film Series A film series in New York City, run by Ben Model and Bruce Lawton, that showcases the work of the great comedians of the silent era.
Mug Shots: Home Page of Forgotten Silent Comics An excellent website created by Slapsticon founder Rob Farr dedicated to comedians like Lloyd Hamilton, Charley Bowers, and Lupino Lane. Very well done; a perfect tribute to these talented yet little known funsters.
Leonard Maltin's "Movie Crazy" Leonard Maltin, film historian/critic and Chase enthusiast, has a great website which includes articles about classic film, current movie reviews, and more.
Trav S.D.'s Travalanche The blog of Trav S.D., the author of the must-read No Applause, Just Throw Money: The Book That Made Vaudeville Famous. Contains many fascinating posts on various vaudevillians, some of whom a young Charles Parrott likely encountered in his formative years on the stage.
Silent Era An extensive site on silent film, "Silent Era" features notes on film screenings, reviews of books and DVDs, bios of silent film performers, as well as a list of the top films of the era. Essential for the silent film connoisseur.
The Bioscope Among silent film related blogs, "The Bioscope" is one of the very best, a vast resource that covers all aspects of silent cinema. No longer updated, but a massive, indispensable archive.
Looser Than Loose Publishing The gang at Looser Than Loose Publishing offer great classic comedy DVDs, CDs of vintage audio recordings (including a Charley Chase CD), and much more, including information about Slapstick! Magazine, a (now online) journal of slapstick comedy.
The Internet Movie Database The IMDb. 'Nuff said.
---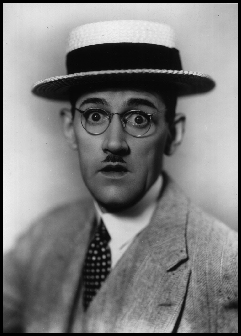 Back to the main page of "The World of Charley Chase"