"The Fraidy Cat"
****
---
After a mere eight releases under his new Jimmy Jump series, Charley Chase was attracting the attention of theatergoers with his fresh and snappy characterization. Reviews for his previous films were uniformly positive in their praise. Quotes such as "...clean as a whip...", "...high class comedy..." and "...suitable and amusing..." were used to describe his clever and jam packed films that some theater owners urged for to be made into two reel releases, which was eventually done. With the release of The Fraidy Cat, Charley had made as good a comedy short as he ever had.
The story is a comedy of misunderstanding. Charley is a mouse of a man, afraid of almost everyone he meets. His one solace is the love of his life, Dorothy, played to perfection by Beth Darlington. His rival for her affections, Lem Tucker, the village sheik, played by Earl Mohan, will go to any length to stop Jimmy in his pursuit of the fair Dorothy. He doesn't have much length to go as he is very aware of how cowardly Jimmy is. To release his pressure valve, Jump has erected a mannequin of Tucker in his bedroom that he can torment. During an altercation, Jimmy charges into his room, unaware that Lem has replaced himself with the fake Tucker. Jimmy leaves an open space free to be hit by the "fake" Tucker and receives a crushing shot that knocks himself out of his bedroom window onto the lawn.
His torment is not relegated to Lem alone; the neighborhood kiddies have a field day with Jimmy. Played by the original Our Gang kids, including Joe Cobb, Mickey Daniels and Sunshine Sammy Morrison, Jimmy is squirted, tripped and chased by the unruly mob. Back at Dorothy's home, Jimmy, standing next to a hedge that Dorothy is sitting next to, wants to propose but Lem is not too far away. He keeps circling the block in his horse drawn carriage, trying to prevent Jimmy from making the big move. Unsure of how to ask for her hand, Jimmy notices that on the other side of the hedge, a young man is proposing to his consort. Believing each line the stranger said has come from Jimmy, Dorothy answers him and spurs him on. To Jimmy's delight, each line brings a new rush of emotion to his and the other guy's lady love. Lem Tucker sees Dorothy's reaction and waves his fist at Jimmy but our hero gestures that he hasn't said a word to Dorothy. "Be my ball and chain, honey," declares the young stranger and both women rush into the arms of their respected lover. This scene, choreographed with superior skill by Charley's brother, James Parrott, is a first rate example of silent film comedy at its finest.
Dorothy's father is a doctor and informs Jimmy of some news that will change his life forever. "Your father says I'll die in a week," he sadly tells his sweetie. Inspired by this finality, he tells her, "If I've got to die, I'm going to go out like a man!" With that, Jimmy departs and seeks revenge to all those who have bullied him. Dorothy, shocked by the news Jimmy has told her, goes to her father and finds out what the reason is for Jimmy's sudden demise. Laughing, her father tells her, "I didn't say DIE in a week, I said DIET a week." Beth rushes out to find Jimmy and tell him of the misunderstanding but not before he thoroughly whips Lem Tucker and takes care of the Our Gang kids.
This film survives in various forms. It has been presented in a slightly shorter version, under the title, The Lost Sheep and was offered in the 1930's in the Kodascope motion picture catalogue; the forerunner of Suncoast and Blockbuster Video. The best print that seems to survive to date is an actual uncut, Kodascope print in my personal archive (although many silent short subjects from the entire era seem to turn up in various collections over the years). The Fraidy Cat is one of the top Chase one reelers from that 1924 season. While some may question the validity of sparring with the Our Gang kids, it is not so much an act of violence as much as it is a statement to the bullies in the neighborhood. And, Chase doesn't "beat them up"; he does to them what they did to him. He squirts them with water, he makes them trip each other and he chases them but never actually strikes them. Revenge indeed but with a sweet twist.
What makes this film work with an audience right from the beginning is the introduction of Jimmy Jump as a nice young man, kind to his mother and innocent as new fallen snow. It is only when he steps out of the confines of his home that cruel reality takes over; a reality that he is ill prepared for. When he gets his courage, we root for him, fully aware that it is wrong to do so but still pleasurable, nevertheless. This new found courage echoes a similar theme from an earlier Roach film with Harold Lloyd called Grandma's Boy. But where Harold is deceived into believing that he has courage as a result of a trinket, Jimmy Jump's perception is that his legacy is at stake and takes matters into his own hands. One can't help but notice the similarities and wonder if Chase was inspired by his friend, who made his film at the same studio less than two years earlier.
In its review of the picture, Motion Picture News called The Fraidy Cat "A breezy, light comedy." It moves with a pace that gets right to the point and tells its narrative in easy to follow steps that allow no viewer to miss any details. With this ninth release, the Jimmy Jump series had a tough act to top if it was going to continue its success with audiences of the roaring '20s.
---
Credits:
"The Fraidy Cat". Directed by James Parrott. With Charley Chase, Beth Darlington, Joe Cobb, Mickey Daniels, Ernie "Sunshine Sammy" Morrison. Produced by Hal Roach. Released on March 30, 1924.
---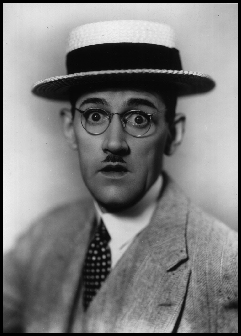 Back to the main page of "The World of Charley Chase"