The Picture Gallery
Gallery Eight: Charley Chase In Contempory Film Ads & Magazines
---
Top left & top right: Advertisements for "The Uneasy Three" (1925) and "There Ain't No Santa Claus" (1926), two of Chase's Pathe-released silents.
Middle left: Ad for "The Merry Widower" (1926), a Roach two-reeler co-directed by Stan Laurel in which Charley Chase has an uncredited appearance.
Middle right: Ad for "Looser Than Loose" (1930), one of Chase's better early talkie comedies.
Bottom left: A full-page ad for Chase's series of short comedies in an issue of "Exhibitors Herald Magazine" from 1927. (Text from the ad reprinted below.)
Bottom right: Chase on the cover of a Belgian movie magazine in the 1930s.
Top four images appear on this website courtesy of Cole Johnson.
---
---
Text from the full-page Charley Chase ad in 1927's Exhibitors Herald Magazine
THE INSIDE STORY ON CHARLEY CHASE
his long term contract is important!
NATURALLY IT WAS TO BE
expected that Charley Chase's established box-office name would suggest him as the new star to be taken into the feature comedy market.
AGAINST KEENEST COMPETITION
Charley Chase is retained for the Short Subject field. A victory for Hal Roach and Metro-Goldwyn-Mayer.
---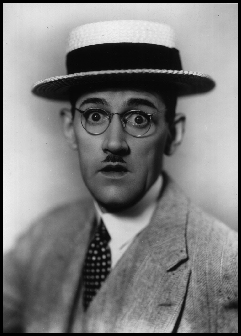 Back to the main page of The World of Charley Chase
---