Charley Chase Movie Posters and Print Ads
1930-39: Sound-Era Comedies
---
Posters promoting Charley Chase's films from the 1930's were slickly designed and often reflected the art deco style of the times.
A dapper Chase is featured in the poster for the early talkie Fast Work (1930). A 1930 full-page promo ad for the Chase series calls attention to these "all talking" comedies (the text from the ad is reproduced at the bottom of this page.)
A one-sheet poster for Luncheon At Twelve (1933) points to the slapstick nature of that comedy and, like many ads promoting Chase's mid 30's work, prominently credits Chase as director under his real name, Charles Parrott. I'll Take Vanilla (1934) is advertised by a diverting little poster that implies more action than is apparent in the actual film.
A poster for Something Simple (1934) is highlighted by a glorious caricature of mid '30-era Chase and co-star Betty Mack drawn by the legendary Al Hirschfeld. One of Chase's best talkie shorts, Fate's Fathead (1934), is promoted by a somewhat stylized one-sheet poster.
Two images advertise the feature-length comedy Kelly The Second (1936), in which Chase had a superb supporting role, the first being a poster for display in theaters, while the second is a collection of small lobby cards depicting scenes from the film.
The poster promoting Hollywood Party (1937), which was filmed for MGM just before Chase joined Columbia Pictures, highlights its pioneering use of three-strip Technicolor and depicts the comedian in character as Charley Chan Chase. Lastly, the ad for the Columbia short The Sap Takes a Wrap (1939) is notable for including a co-producer credit for Chase.
Click on each thumbnail to open a larger picture.
Images of Fast Work, Something Simple, Kelly The Second, and The Sap Takes a Wrap courtesy of Peter Mikkelsen.
---
---
Text from the full-page ad promoting Charley Chase's "all talking" comedies
CHARLEY CHASE
In a Series of Eight Hal Roach All Talking Comedies
Here he comes - there he goes! All dressed up - on his toes! Sophisticated society comedy, a thousand and one embarrassing moments, bevies of bright eyed beauties. His headline vaudeville experience made him a comedy star from the start - now it makes him a greater bet than ever in all-talking two-reelers. He sings, he dances, he plays every instrument in the band. And how! During the coming season no star will shine brighter, no comedian is assured of a more magnificent success.
---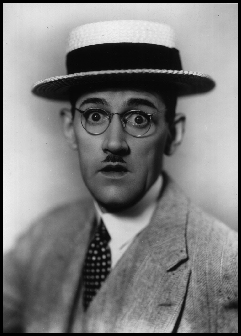 Back to the main page of The World of Charley Chase