Reelclassicdvd's A Festival of Silent Comedy
Volume One and Volume Three
---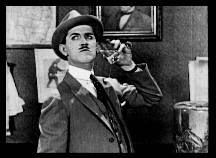 Charley Chase's "April Fool" (1924), one of several silent comedies available on Reelclassicdvd's "A Festival of Silent Comedy" Volume One
---
Films and Visual Quality * * * / * * * *
Eclectic selection of comedies presented authentically in good prints
Presentation * * / * * * *
No-frills presentation without scene selection
Musical score * * * / * * * *
Appropriate and entertaining piano scores for comedies
Special Features
Lack of special features keeps focus on films
---
Reelclassicdvd is a relatively new classic film DVD outfit that specializes in quality editions of public domain films. Two of Reelclassicdvd's three (so far) volumes of A Festival of Silent Comedy are of interest for the Charley Chase buff. Volume One includes the one-reeler April Fool (1924) as well as the Charles Parrott-directed Snub Pollard short Sold at Auction (1923), while the recently released Volume Three includes the two-reeler Bromo and Juliet (1926). Rounding out Volume One is Chaplin's Keystone short Caught in the Rain (1914), the Stan Laurel solo comedy Smithy (1924), the Our Gang short War Feathers (1926), and Reckless Rosie (1929) with Frances Lee and Billy Engle. Buster Keaton's Cops (1922), Stan Laurel's Oranges and Lemons (1923), Our Gang's The Buccaneers (1924), the Mack Sennett comedy Muddled in Mud (1913), and Fox's Our Gang-esque kid comedy Wild Puppies (1927) make up the rest of Volume Three.
The print quality of these comedies varies from film to film, but is mostly good. Reelclassicdvd, being a small mail order DVD company, obviously doesn't have the resources to undertake any massive restoration projects, so the prints of these shorts never have an incredible, just-filmed-yesterday quality. This is especially noticeable when comparing the version of Cops found on Volume Three with Kino International's on their Art of Buster Keaton set, which is vastly superior. Nevertheless, unlike many of the films released by these larger DVD distributors, Reelclassicdvd presents these comedies in the proper film speed and, importantly, their products do not undergo DVD-to-DVD transfers. All these movies have been transferred directly from film prints, a big plus for many silent comedy purists who have criticized recent U.S. DVD releases whose masters were transferred from PAL (the European DVD versions), thereby creating a "ghosting" effect. On the other hand, scene selection is not available for any of these films, which would have been a nice feature on the DVD.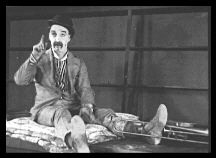 Each Festival of Silent Comedy collection, as one can see from the titles, is a mixed bag in terms of content. Grouped in a seemingly random fashion -- not organized by either theme or personnel -- these DVDs provide an interesting overview of silent comedy without simply focusing on the era's top stars. Volume One is slightly superior in terms of the selection of films, especially with the inclusion of Snub Pollard's Chase-directed effort Sold at Auction, by far the highlight of the DVD. One of minor silent comedy star Pollard's major films, Sold at Auction is an inventive, surreal comedy co-starring James Finlayson. Its two-reels of slapstick and sight gags are deservedly celebrated and are presented in a surprisingly good print. Whereas some of the other shorts in the Festival of Silent Comedy DVDs are available elsewhere -- such as the Chase one-reeler April Fool on Volume One, which is included in Kino's Charley Chase Collection -- Sold at Auction is a relatively rare two-reeler and is worth the price of the DVD alone. (Though to be fair, Reelclassicdvd's version of April Fool looks great, and it should...according to Mark Roth, it was taken from the only original print known to exist, something that even Kino didn't have access to.)
Volume Three features Bromo and Juliet (1926), a lesser Chase comedy from his golden period which contains Charley's inebriated burlesque of Shakespeare's Romeo and Juliet. The cast of the short notably features Oliver Hardy, just then on the cusp of teaming up with partner Stan Laurel, and as a result the comedy was previously released as part of the Lost Films of Laurel & Hardy series. The print featured on Reelclassicdvd's collection is good, though at times a little too dark, especially near the end of the short.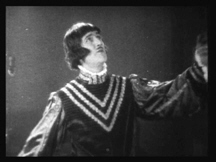 The musical scores for all of the shorts on Festival of Silent Comedy are piano scores composed and performed by Ben Model, talented pianist for the Museum of Modern Art as well as for New York City's "Silent Clowns Film Series". The scores are appropriate and pleasant; sometimes lively, other times leisurely, they serve their purpose as entertaining background to comic chaos. Those who have been treated to Model's performances at "The Silent Clowns Film Series" might view these DVDs as home video versions of those wonderful screenings.
Overall, these two collections would be of lesser interest for casual fans, but are especially recommended for silent comedy diehards who want their slapstick presented in a manner faithful to their original releases in the 1910's and 20's -- at the proper speed, transferred from film prints, with appropriate music and without freeze-framed title cards. Although the prints of some of these films could be better, and at times have looked better in other releases, Reelclassicdvd has lovingly recaptured these comedies in as authentic a way as possible, which may be just as important.
---
To order the DVD directly from Reelclassicdvd, click here.
A Festival of Silent Comedy, Volume One and Volume Three. Produced by Mark Roth. Music by Ben Model. Distributed by Reelclassicdvd.
All photos courtesy of Reelclassicdvd.
---
Back to the main page of "The World of Charley Chase"