SlapHappy Volume Four
Charley Chase Episode
---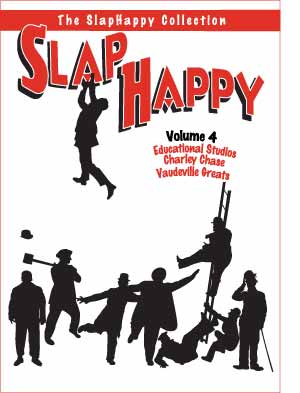 ---
Films and Visual Quality * * * / * * * *
A decent selection of films presented in good prints
Presentation * * * / * * * *
Scene selection available as well as a non-narration option
Musical score * * * 1/2 / * * * *
Jazzy musical score an appropriate support to these energetic comedies
Special Features
None
---
SlapHappy is an extensive compilation program (30 half-hour episodes) chronicling the silent comedy era via its most brilliant and popular stars, major comedy studios, and funniest lesser-known personalities. It aired on PBS in the United States in 2001 and now airs in stations overseas, but only recently has this series become available on DVD. The DVD release is comprised of a ninety-minute feature and ten volumes (three episodes per volume), available individually or as a set. The ninety-minute movie is a compilation of clips from the entire series, only featuring Chase in a lengthy series of clips from his 1924 one-reeler, The Fraidy Cat (except for a short clip from his comedy Innocent Husbands, which kicks off the film). This review will focus, appropriately enough, on the Charley Chase program featured on volume four.
The Charley Chase episode on SlapHappy begins with a snippet from the car chase scene of Chase's last two-reeler, Big Red Ridinghood (1925). The narrator introduces Chase as "one of the most talented and versatile performers in the history of motion pictures" -- not too shabby for a two-reel comic who is hardly a household name! The next half-hour essentially attempts to support this claim through film clips and historical tidbits presented over Chase's film work from the 'teens and '20s. The clips are presented in near chronological order, an effective maneuver since the narration traces Chase's development as a comic actor and (especially) director at Mack Sennett's Keystone Studio, to his freelance directing period from the late 'teens to early '20s, and finally to his own starring series at the Hal Roach Studio.
One of the most interesting clips of the entire episode comes early on, a short scene from the Keystone comedy Dough and Dynamite (1914). The scene features Chase supporting Charlie Chaplin, and regardless of the gagging onscreen, it is fascinating to watch the two comedians working together in front of the camera, albeit briefly. Other Keystone clips include one from Love, Loot and Crash (1915), which features Harold Lloyd for about two seconds during his tenure at Sennett's (which lasted only a little longer than that), and The Cannonball (1915), a classic Keystone bit of anarchy directed by Chase and starring Chester Conklin.
Clips from other Chase-directed efforts follow. Playmates (1918) represents the period in the late 'teens in which Chase helmed the series of Chaplin imitator Billy West. The clip is interesting for featuring both West and a young Oliver Hardy, who was West's heavy in many of his comedies years before his teaming up with Stan Laurel. Regrettably, the episode does not include another clip from the short which would be of interest, Chase's cameo in the film, in which he plays a cocaine junkie. Immediately following the Chase-directed Billy West clip is one from Snub Pollard's Blow 'Em Up (1923), also directed by Chase. It's too bad that a better Pollard short wasn't picked for inclusion in this section of the episode, such as the classic Sold At Auction (1923). Instead, we are treated to clips from a rather average Pollard comedy of the period.
Next, the documentary sets up Chase's move to what would become his home for a decade and a half, the Hal Roach Studio. Clips from the Our Gang comedy Dogs of War and brother Paul Parrott's series (limited to the comedy Post No Bills) are included in this section. A brief discussion of Paul Parrott (AKA James Parrott) is certainly important, but the clips presented here are a bit too lengthy considering the limited running time of this study of Charley Chase.
Lastly, Chase's Hal Roach silent comedies -- the cream of his comic crop -- are featured. The Fraidy Cat (1924) and the two-reeler The Caretaker's Daughter (1925) in particular are given the bulk of the footage. The featured scenes are funny though unfortunately the program neglects to include clips from some of Charley Chase's all-time classics. This is bound to happen when the running time of such a compilation is so short, but it is curious that only one two-reel comedy from Chase's mature period is included, with no clips offered from Mighty Like a Moose, Crazy Like a Fox, Fluttering Hearts, or any other of Chase's more well-regarded comedies (to be fair, other episodes from the series do feature clips from classic Chase farces like Innocent Husbands, Be Your Age, and the aforementioned Mighty Like a Moose). In spite of this, the episode is satisfying enough, and the producers should be commended for spotlighting Chase. At the episode's conclusion, Chase's significant contributions to film comedy are articulately summed up in an obvious effort to restore this neglected funnyman's place in film history.
All in all, SlapHappy's half-hour Charley Chase episode is as fun and breezy as the comedian himself, in addition to being an informative short documentary on Chase and his place in film comedy history. The energetic jazz score by Stomp Off Records bolsters the inherent comedy in the clips and is fun to listen to in itself (I could imagine turning the narration off and just listening to the bouncy music.) The picture quality of these film clips is good to very good; no scratchy, speeded-up silent comedy here. Writers Richard M. Roberts and Larry Stefan should be praised for the effectiveness of the straightforward and informative narration, which focuses on the history of the subject being discussed and thankfully lacks the cornball comments made in many a Robert Youngson compilation. The episode is a fascinating and amusing entry in the SlapHappy series, and would serve as a perfect overview of Chase's career during the silent era. The entire SlapHappy series itself is an entertaining, freewheeling, and educational overview of the silent comedy era, and a great introduction for anyone who is unaware of these funny films and the many brilliant performers and filmmakers who produced them.
---
SlapHappy
Executive Producers Paul Lisy and Larry Stefan
Producer Larry Stefan
Music Producer Bob Erdos in association with Stomp Off Records
Co-Producer and Editor Chris Mohr
Written by Richard M. Roberts and Larry Stefan
Narrator Sam Charles
Archivists Dan Bursik and Paul Lisy
Running Time Approx. 90 minutes for three episodes (the other two being "Vaudeville Greats" and "Educational Studios")
Producted and Distributed by Fishigan Films.
---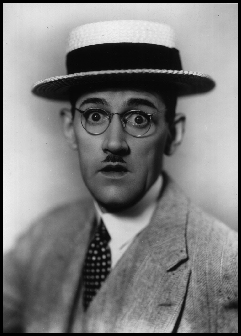 Back to the main page of "The World of Charley Chase"