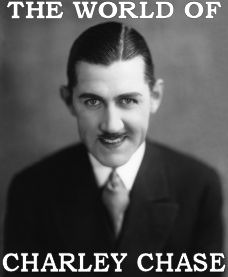 ---
Welcome to THE WORLD OF CHARLEY CHASE, the first and only Charley Chase website. Charley Chase was an incredibly prolific star comedian of the 1920s and 1930s who produced hundreds of short comedies in both the silent and the sound eras. His work behind the scenes as a writer/director of his own films and of countless others has cemented his reputation as one of the principal architects of early film comedy. Established in 1996, this website is intended to serve both early cinema aficionados as well as those less familiar with this comic pioneer.
---
Search The World of Charley Chase
---
"Now That's News!"
Second Volume of Charley Chase Talkies Coming to DVD
The Sprocket Vault is releasing its second volume of Charley Chase's sound-era comedies on DVD, due to arrive on July 16, 2019. Charley Chase: At Hal Roach: The Talkies Volume Two 1932-33 is currently available for pre-order on Amazon and will feature the following short comedies across two DVDs: The Tabasco Kid, The Nickel Nurser, In Walked Charley, First in War, Young Ironsides, Girl Grief, Now We'll Tell One, Mr. Bride, Fallen Arches, Nature in the Wrong, His Silent Racket, Arabian Tights, Sherman Said It, Midsummer Mush, and Luncheon at Twelve. As a bonus, the set will also include the four-reel Spanish-language version of Looser than Loose, Una Cana al Aire. Another volume of Charley Chase talkies may follow if sales are brisk for this release.
---
and a Filmography of Extant Charley Chase Films
---
A big thanks to the following individuals, who have contributed to the creation and content of this website:

Chris Seguin, Rick Levinson, Stan Taffel, Rob Farr, John V. Brennan, and Cole Johnson.
---
Copyright (c) 1996-2019. All Rights Reserved.

All of the written articles and essays published on this website are the sole property of the author(s)
and cannot be reproduced, in whole or in part, without their expressed written permission.
---